https://www.catraldoylecreative.com/ec919gwme Countries affected with Coronavirus: Here you can get a List of Countries affected with Coronavirus detail of total Cases and death. Coronaviruses (CoV) are a large family of viruses that cause illness ranging from the common cold to more severe diseases such as Middle East Respiratory Syndrome (MERS-CoV) and Severe Acute Respiratory Syndrome (SARS-CoV).
https://daccordshirts.com/h9v91vb Coronavirus disease (COVID-19) is a new strain that was discovered in 2019 and has not been previously identified in humans.
Coronaviruses are zoonotic, meaning they are transmitted between animals and people.  Detailed investigations found that SARS-CoV was transmitted from civet cats to humans and MERS-CoV from dromedary camels to humans. Several known coronaviruses are circulating in animals that have not yet infected humans. 
Common signs of infection include respiratory symptoms, fever, cough, shortness of breath and breathing difficulties. In more severe cases, the infection can cause pneumonia, severe acute respiratory syndrome, kidney failure, and even death.
https://missourifbla.org/2023/01/31/ywloz09qa https://cocktailsinteacups.com/2023/01/grm849g5.html Note: Data gets from worldometers . info and data updated on 20 March 2020.
Coronavirus Cases
Deaths
https://concordiadirecto.com/i9yc65a8t0p 10,048
Recovered
https://www.moisttech.com/apnf94ub https://botanicalorganic.com/2en126ie 88,465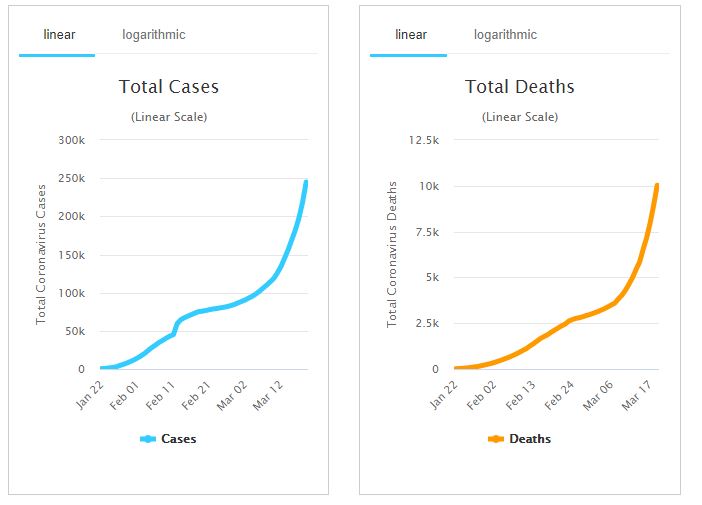 https://lvrealty4sale.com/kbcnxf9 Standard recommendations to prevent infection spread include regular hand washing, covering mouth and nose when coughing and sneezing, thoroughly cooking meat and eggs. Avoid close contact with anyone showing symptoms of respiratory illness such as coughing and sneezing.
Country,
Other
Total
Cases
New
Cases
Total
Deaths
New
Deaths
Total
Recovered
Active
Cases
Serious,
Critical
Tot Cases/
1M pop
China
80,967
+39
3,248
+3
71,150
6,569
2,136
56
Italy
41,035
 
3,405
 
4,440
33,190
2,498
679
Iran
18,407
 
1,284
 
5,979
11,144
 
219
Spain
18,077
 
831
 
1,107
16,139
939
387
Germany
15,320
 
44
 
115
15,161
2
183
USA
14,366
+577
217
+10
125
14,024
64
43
France
10,995
 
372
 
1,295
9,328
1,122
168
S. Korea
8,652
+87
94
+3
2,233
6,325
59
169
Switzerland
4,222
 
43
 
15
4,164
 
488
UK
3,269
 
144
 
65
3,060
20
48
Netherlands
2,460
 
76
 
2
2,382
45
144
Austria
2,196
+17
6
 
9
2,181
13
244
Belgium
1,795
 
21
 
165
1,609
130
155
Norway
1,790
 
7
 
1
1,782
27
330
Sweden
1,439
 
11
 
16
1,412
21
142
Denmark
1,151
 
6
 
1
1,144
30
199
Japan
963
+20
33
 
215
715
46
8
Malaysia
900
 
2
 
75
823
15
28
Canada
873
 
12
 
11
850
1
23
Australia
814
+58
7
 
46
761
1
32
Portugal
786
 
4
 
4
778
20
77
Diamond Princess
712
 
7
 
527
178
14
 
Czechia
694
 
 
 
3
691
6
65
Israel
677
 
 
 
14
663
6
78
Brazil
647
+7
7
 
2
638
18
3
Ireland
557
 
3
 
5
549
6
113
Greece
464
 
6
 
19
439
16
45
Qatar
460
 
 
 
10
450
6
160
Pakistan
454
 
2
 
13
439
 
2
Finland
400
 
 
 
10
390
2
72
Turkey
359
 
4
 
 
355
 
4
Poland
355
 
5
 
13
337
3
9
Singapore
345
 
 
 
124
221
14
59
Chile
342
 
 
 
 
342
6
18
Luxembourg
335
 
4
 
6
325
1
535
Iceland
330
 
 
 
5
325
1
967
Thailand
322
+50
1
 
42
279
1
5
Slovenia
319
 
1
 
 
318
6
153
Indonesia
309
 
25
 
15
269
 
1
Bahrain
279
 
1
 
110
168
4
164
Romania
277
 
 
 
25
252
5
14
Saudi Arabia
274
 
 
 
8
266
 
8
Estonia
267
 
 
 
1
266
1
201
Ecuador
260
 
3
 
1
256
2
15
Egypt
256
 
7
 
42
207
 
3
Peru
234
 
3
+2
1
230
7
7
Philippines
217
 
17
 
8
192
1
2
Hong Kong
208
 
4
 
98
106
4
28
India
201
+7
5
+1
20
176
 
0.1
Russia
199
 
1
 
8
190
 
1
Iraq
192
 
13
 
49
130
 
5
Mexico
164
+46
1
 
4
159
1
1
Lebanon
157
 
4
 
4
149
3
23
South Africa
150
 
 
 
 
150
 
3
Kuwait
148
 
 
 
18
130
5
35
San Marino
144
 
14
 
4
126
12
4,244
UAE
140
 
 
 
31
109
2
14
Panama
137
 
1
 
1
135
7
32
Argentina
128
 
3
 
3
122
 
3
Colombia
128
+20
 
 
1
127
 
3
Slovakia
124
 
 
 
 
124
2
23
Armenia
122
 
 
 
1
121
2
41
Croatia
110
 
1
 
5
104
 
27
Taiwan
108
 
1
 
26
81
 
5
Bulgaria
107
 
3
 
 
104
 
15
Serbia
103
 
 
 
1
102
4
12
Uruguay
94
+15
 
 
 
94
 
27
Algeria
90
 
9
 
32
49
 
2
Costa Rica
89
+2
2
+1
 
87
2
17
Latvia
86
 
 
 
1
85
 
46
Hungary
85
+12
1
 
2
82
4
9
Vietnam
85
 
 
 
16
69
 
0.9
Andorra
74
 
 
 
1
73
 
958
Brunei
73
 
 
 
 
73
2
167
Faeroe Islands
72
 
 
 
1
71
 
1,474
Jordan
69
 
 
 
1
68
 
7
Cyprus
67
 
 
 
 
67
1
55
Albania
64
 
2
 
 
62
2
22
Bosnia and Herzegovina
64
 
 
 
2
62
 
20
Morocco
63
 
2
 
2
59
1
2
Sri Lanka
60
 
 
 
3
57
 
3
Malta
53
 
 
 
2
51
 
120
Belarus
51
 
 
 
5
46
 
5
North Macedonia
50
 
 
 
1
49
1
24
Moldova
49
 
1
 
1
47
3
12
Kazakhstan
49
+5
 
 
 
49
 
3
Lithuania
48
 
 
 
1
47
1
18
Oman
48
 
 
 
13
35
 
9
Palestine
47
 
 
 
 
47
 
9
Guadeloupe
45
+12
 
 
 
45
 
112
Azerbaijan
44
 
1
 
7
36
 
4
Venezuela
42
 
 
 
 
42
 
1
Georgia
40
 
 
 
1
39
1
10
Tunisia
39
 
1
 
1
37
2
3
New Zealand
39
+11
 
 
 
39
 
8
Cambodia
37
 
 
 
1
36
 
2
Senegal
36
 
 
 
2
34
 
2
Dominican Republic
34
 
2
 
 
32
 
3
Burkina Faso
33
 
1
 
 
32
 
2
Liechtenstein
28
 
 
 
 
28
 
734
Réunion
28
 
 
 
 
28
 
31
Ukraine
26
 
3
 
 
23
 
0.6
Honduras
24
+12
 
 
 
24
 
2
Martinique
23
 
1
 
 
22
7
61
Uzbekistan
23
 
 
 
 
23
 
0.7
Afghanistan
22
 
 
 
1
21
 
0.6
Bangladesh
18
 
1
 
3
14
 
0.1
Macao
17
 
 
 
10
7
 
26
Bolivia
17
+2
 
 
 
17
 
1
Cuba
16
+5
1
 
 
15
 
1
Jamaica
16
+1
1
 
2
13
 
5
French Guiana
15
 
 
 
 
15
 
50
DRC
14
 
 
 
 
14
 
0.2
Cameroon
13
 
 
 
 
13
 
0.5
Maldives
13
 
 
 
 
13
 
24
Montenegro
13
 
 
 
 
13
 
21
Paraguay
13
 
 
 
 
13
1
2
Nigeria
12
 
 
 
1
11
 
0.06
Guam
12
 
 
 
 
12
 
71
Channel Islands
11
 
 
 
 
11
 
63
French Polynesia
11
+5
 
 
 
11
 
39
Ghana
11
 
 
 
 
11
 
0.4
Rwanda
11
 
 
 
 
11
 
0.8
Monaco
10
 
 
 
 
10
 
255
Gibraltar
10
 
 
 
2
8
 
297
Guatemala
9
 
1
 
 
8
 
0.5
Ivory Coast
9
 
 
 
1
8
 
0.3
Ethiopia
9
+2
 
 
 
9
 
0.08
Trinidad and Tobago
9
 
 
 
 
9
 
6
Kenya
7
 
 
 
 
7
 
0.1
Mauritius
7
 
 
 
 
7
 
6
Equatorial Guinea
6
 
 
 
 
6
 
4
Kyrgyzstan
6
+3
 
 
 
6
 
0.9
Mongolia
6
 
 
 
 
6
 
2
Puerto Rico
6
 
 
 
 
6
 
2
Seychelles
6
 
 
 
 
6
 
61
Tanzania
6
 
 
 
 
6
 
0.1
Guyana
5
 
1
 
 
4
 
6
Aruba
5
 
 
 
1
4
 
47
Barbados
5
 
 
 
 
5
 
17
Mayotte
4
 
 
 
 
4
 
15
Cayman Islands
3
 
1
 
 
2
 
46
Curaçao
3
 
1
 
 
2
 
18
Bahamas
3
 
 
 
 
3
 
8
Congo
3
 
 
 
 
3
 
0.5
Gabon
3
 
 
 
 
3
 
1
Namibia
3
 
 
 
 
3
 
1
St. Barth
3
 
 
 
 
3
 
304
Saint Martin
3
 
 
 
 
3
 
78
U.S. Virgin Islands
3
 
 
 
 
3
 
29
Sudan
2
 
1
 
 
1
 
0.05
Benin
2
 
 
 
 
2
 
0.2
Bermuda
2
 
 
 
 
2
 
32
Bhutan
2
+1
 
 
 
2
 
3
Greenland
2
 
 
 
 
2
 
35
Haiti
2
+2
 
 
 
2
 
0.2
Liberia
2
 
 
 
 
2
 
0.4
Mauritania
2
 
 
 
 
2
 
0.4
New Caledonia
2
 
 
 
 
2
 
7
Saint Lucia
2
 
 
 
 
2
 
11
Zambia
2
 
 
 
 
2
 
0.1
Nepal
1
 
 
 
1
0
 
0.03
Antigua and Barbuda
1
 
 
 
 
1
 
10
Cabo Verde
1
+1
 
 
 
1
 
2
CAR
1
 
 
 
 
1
 
0.2
Chad
1
 
 
 
 
1
 
0.06
Djibouti
1
 
 
 
 
1
 
1
El Salvador
1
 
 
 
 
1
 
0.2
Fiji
1
 
 
 
 
1
 
1
Gambia
1
 
 
 
 
1
 
0.4
Guinea
1
 
 
 
 
1
 
0.08
Vatican City
1
 
 
 
 
1
 
1,248
Isle of Man
1
 
 
 
 
1
 
12
Montserrat
1
 
 
 
 
1
 
200
Nicaragua
1
 
 
 
 
1
 
0.2
Niger
1
 
 
 
 
1
 
0.04
St. Vincent Grenadines
1
 
 
 
 
1
 
9
Sint Maarten
1
 
 
 
 
1
 
23
Somalia
1
 
 
 
 
1
 
0.06
Suriname
1
 
 
 
 
1
 
2
Eswatini
1
 
 
 
 
1
 
0.9
Togo
1
 
 
 
 
1
 
0.1
https://curiousasacathy.com/m3dagw64 Total:
245,913
1,019
10,048
20
88,465
147,400
7,385
31.5