List of Latest Barbie films 2016
We have a list of Barbie latest films 2016.Here is a complete and proper list of all latest barbie films which have been released during last few years.Barbie stories always attract the children and are good recreation for children as well as for teenagers.Now not only children watch barbie films but parents also sit and watch with them with full interest.
So here is a full list of the all latest Barbie films for your help get your favorite movie name and enjoy it.Here
is a complete list.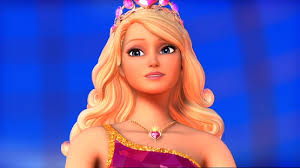 1)BARBIE THE PEARL PRINCESS:
                       It is released in 2014.It is a film series in which a Mermaid who has a power from which she
can change the color of pearls and she help her friends for their Kingdom's royal ball party.
2)BARBIE AND THE SECRET DOOR:
                      It is released in 2014.It is also a film series.It is a story of a Princess who is very shy she
discovers a secret door and enters in a different world where she find her friends and who are Mermaid and fairy and there she discover her powers also.
3)BARBIE IN PRINCESS POWER:
                         It is released in 2015.It is a story of a princess who after being kissed by the magical
butterfly got her powers and help people.
4)BARBIE IN ROCK'N ROYALS:
                      It is released in 2015.In this movie Princess and Erika a famous musician accidentally
switches places and princess take place of Erika and Erika takes the place of a princess and both do new and different
things.
5)BARBIE SPY SQUAD:
               It released in 2016.It is a movie of three friends and how they work as a spy.
6)BARBIE STARLIGHT ADVENTURE:
                     It is most recently released barbie movie on 1 August 2016.In this barbie and popcorn goes to
Capital Planet to join the mission of recusing the team that is working and trying to save the starts.