List of 2023 CPT Codes. Here you can see CPT Code list That medical doctor use. CPT codes are the standard of the United States, as medical professionals document, report, and report medical, surgical, radiological, laboratory, anesthesiology, evaluation and management services (E / M). All health care providers, payers, and facilities use CPT codes.
2023 is just around the corner and like every new year, we have to check CPT changes. A spreadsheet with new / deleted codes, corresponding to the chapters in the CPT manual, is attached. The calculation table can be operated by specialty or system. This should make it easier for you to determine new and deleted codes that are specific to your specialty. There is also a revised code tab that contains a column that surrounds the revisions.
The five-digit CPT codes are used by insurers to determine the amount of reimbursement a practitioner receives for services rendered.
Current Procedural Terminology (CPT) codes were first published in 1966 and developed, maintained and copyrighted by the American Medical Association (AMA). Thousands of CPT codes are used and updated annually. They fall into three categories.
Summary of changes by CPT Sections:
Evaluation and Management
Surgery section:

Integumentary
Musculoskeletal

New – 11
Deleted – 8
Revised – 6
Respiratory

New – 9
Deleted – 5
Revised – 8

Cardiovascular

New- 19
Deleted- 11
Revised- 5

Digestive
Female Genital System

New- 1
New- 9
Deleted- 4
Revised- 1

Eye and Ocular Adnexa
Radiology
New- 4
Pathology

New- 11
Deleted- 9
Revised- 6

Medicine Section

New- 27
Deleted- 13
Revised- 29

Category III

New- 23
Deleted- 18
Revised- 5
CPT Codes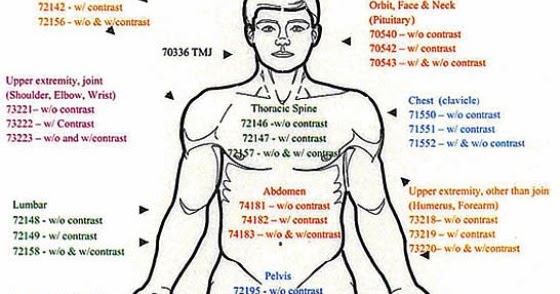 2023 CPT Codes
MODEL SPEECH-LANGUAGE PATHOLOGY SUPERBILL
PATIENT:
INSURED:
REFERRING PHYSICIAN:
ADDRESS:
FILE:
INSURANCE PLAN:
DATE:
INSURANCE PLAN #:
DATE INITIAL SYMPTOM:
DATE FIRST CONSULTATION:
PLACE OF SERVICE:
o HOME
o OFFICE
o OTHER:
DIAGNOSIS:
| | |
| --- | --- |
| PRIMARY (Speech-Language Pathology): | ICD-10/9 CODE: |
| SECONDARY (Medical): | ICD-10/9 CODE: |
SERVICES:
þ
PROCEDURE
CPT
CHARGE
Swallowing Function
o
Treatment of swallowing dysfunction and/or oral function for feeding
92526
o
Evaluation of oral & pharyngeal swallowing function
92610
o
Motion fluoroscopic evaluation of swallowing function by cine or video recording
92611
o
Flexible fiberoptic endoscopic evaluation of swallowing by cine or video recording
92612
o
      interpretation and report only
92613
o
Flexible fiberoptic endoscopic evaluation, laryngeal sensory testing by cine or video recording
92614
o
      interpretation and report only
92615
o
Flexible fiberoptic endoscopic evaluation of swallowing and laryngeal sensory testing
92616
o
      interpretation and report only
92617
Speech and Language
o
Treatment of speech, language, voice, communication, and/or auditory processing disorder, individual
92507
o
      group, two or more individuals
92508
o
Development of cognitive skills to improve attention, memory, problem solving, direct one-on-one patient contact by the provider; each 15 minutes
97532
o
Sensory integrative techniques to enhance sensory processing and promote adaptive responses to environmental demands; each 15 minutes
97533
o
Nasopharyngoscopy w/ endoscope
92511
o
Laryngeal function studies
92520
o
Evaluation of speech fluency (eg, stuttering, cluttering)
92521
o
Evaluation of speech sound production (eg, articulation, phonological process, apraxia, dysarthria);
92522
o
Evaluation of speech sound production (eg, articulation, phonological process, apraxia, dysarthria) with evaluation of language comprehension and expression (eg, receptive and expressive language)
92523
o
Behavioral and qualitative analysis of voice and resonance
92524
o
Evaluation of auditory rehabilitation status,

first hour

92626
o
      each additional 15 minutes
92627
o
Auditory rehabilitation; pre-lingual hearing loss
92630
o
Auditory rehabilitation; post-lingual hearing loss
92633
o
Assessment of aphasia with interpretation and report, per hour
96105
o
Developmental screening, with interpretation and report, per standardized instrument form
96110
o
Developmental testing, (includes assessment of motor, language, social, adaptive and/or cognitive functioning by standardized developmental instruments) with interpretation and report
96111
o
Standardized cognitive performance testing (eg, Ross Information Processing Assessment) per hour of a qualified health care professional's time, both face-to-face time administering tests to the patient and time interpreting these test results and preparing the report
96125
o
Laryngoscopy; flexible fiberoptic; diagnostic
31575
o
Laryngoscopy; flexible or rigid fiberoptic, with stroboscopy
31579
Augmentative and Alternative Communication
o
Evaluation for use/fitting of voice prosthetic device to supplement oral speech
92597
o
Evaluation for prescription of non-speech generating augmentative and alternative communication device, face-to-face with the patient;

first hour

92605
o
      each additional 30 minutes
92618
o
Therapeutic service(s) for the use of non-speech generating augmentative and alternative communication device, including programming and modification
92606
o
Evaluation for prescription for speech-generating augmentative and alternative communication device; face-to-face with the patient;

first hour

92607
o
      each additional 30 minutes
92608
o
Therapeutic services for the use of speech-generating device, including programming and modification
92609
o
Repair/Modification of AAC device (excluding adaptive hearing aid)
V5336
 

Other Procedures

o
Otorhinolaryngological service or procedure
92700
o
Telephone assessment and management service provided by a qualified nonphysician health care professional to an established patient, parent, or guardian not originating from a related assessment and management service provided within the previous seven days nor leading to an assessment and management service or procedure with the next 24 hours or soonest available appointment;

5-10 minutes of medical discussion

98966
o
      11-20 minutes of medical discussion
98967
o
      21-30 minutes of medical discussion
98968
o
Online assessment & management service provided by a qualified nonphysician health care professional to an established patient, guardian, or health care provider not originating from a related assessment & management service provided within the previous 7 days, using the Internet or similar electronic communications network.
98969
o
Medical team conference with interdisciplinary team of health care professionals, face-to-face with patient and/or family, 30 minutes or more; participation by nonphysician qualified health care professional
99366
o
Medical team conference with interdisciplinary team of health care professionals, patient and/or family not present, 30 minutes or more; participation by nonphysician qualified health care professional
99368
Total Charges: $
BILLING INFORMATION
PREVIOUS BALANCE:
$
TODAY'S CHARGES:
$
TOTAL DUE:
$
PAID TODAY:
$
PAID BY:
o CASH
o CREDIT

¡ VISA   ¡ MC   ¡ OTHER

o CHECK
BALANCE:
$
AUTHORIZATIONS
I hereby authorize direct payment of benefits to Speech Services, Inc.
SIGNATURE:
DATE:
I hereby authorize Jane Smith, MA, CCC-SLP to release any information acquired in the course of treatment.
SIGNATURE:
DATE: